Customer Success, Enhanced Support, and Services
If you need more, there's CareFor
A portfolio of outcome-driven services and support to help Infor customers create their own model for sustainable success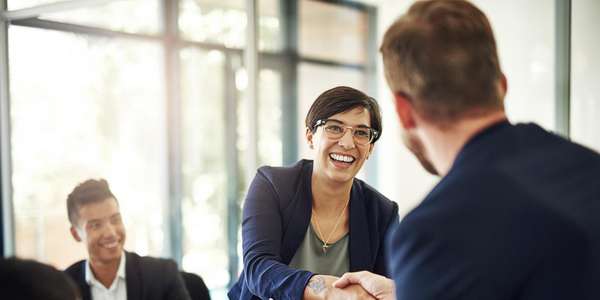 What is CareFor
What does success look like to you?
CareFor's integrated portfolio is designed around enabling you to achieve your business's definition of success.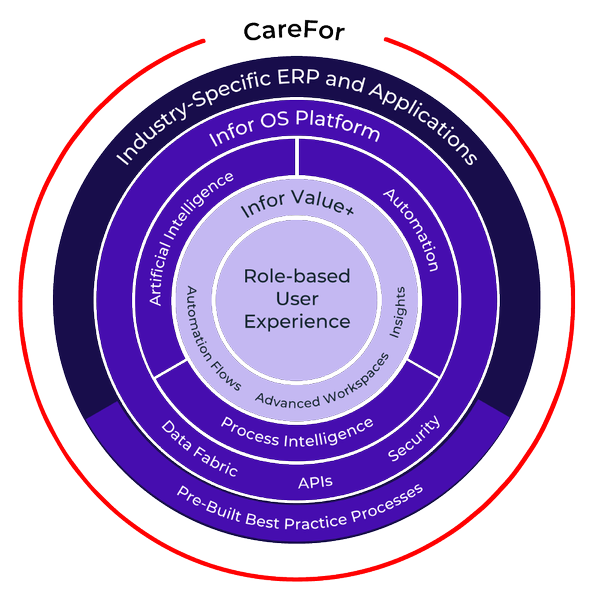 Customer Success
A designated Customer Experience Manager providing guidance, assistance, and ongoing partnership throughout your transformation journey.
Enhanced Support
Additional support features for customers who want an enhanced response model.
Services
A portfolio of services designed to provide customers with ongoing capabilities for sustained success.

CareFor helps your organization
What if you could meet your business's on-going application needs with tailored solutions — and free your most valuable people to focus on the real priorities of the business?
---
Make sure you have the skilled capabilities – available, flexible, and scalable – to deliver the value your business envisions.
---
Provide an integrated experience, quick resolution of issues and questions, and a designated contact whenever you need it.
---
Mitigate the risk of ending up with an ERP solution that's not grown and evolved along with your business needs.
---
Free your people to focus on your business value streams with the skills available to do whatever your business needs next.
Sustainable Success
What does Infor mean by sustainable success?
Regardless of the ERP solution you choose, delivering on-going value after go live starts with having the right capabilities to meet the needs of your business.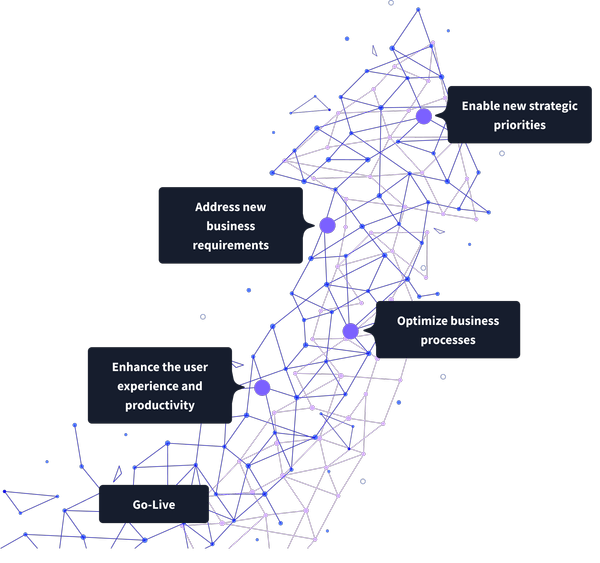 Success is a journey that continues long after go live
Infor understands that your success is a journey. Value is defined and designed in the months before you go live, but is realized in the months and years after. You will continue to measure the success of your Infor solution over time, based on how well it enables the achievement of your business's goals.
In no small part, success is measured over time by customers' ability to:
Enhance user experience and productivity
Optimize business processes
Address new business requirements
Enable new strategic priorities
A model for sustainable success
Your user needs will change, business requirements and processes will evolve, and strategic priorities will shift. And sustaining success over time will depend on your ability to enable and support these changes within your solution. Regardless of which ERP applications you choose, if you don't have the skills, resources, and capabilities to evolve with your business's needs, you put your ERP investment at risk.
CareFor was designed to provide Infor customers with flexible options, if they need them, to achieve their own definition of sustained success.
Customer success
A designated Customer Experience Manager to provide guidance, assistance, and ongoing partnership throughout your journey. With you from the time you become a CareFor customer, the Customer Experience Manager is accountable and responsible for your satisfaction.
---
Acting as your advisor and advocate, coordinating Infor resources and ensuring an integrated support and service management experience.
---
Providing adoption guidance and connecting you to the right resources to help your business and users get the most from your Infor solution.
---
We work closely with you to achieve the success objectives you and your business have for your Infor solution.
Enhanced support
We provide additional support features when you require an enhanced response model. You and your organization have the comfort of knowing you're covered by Infor's highest level of response.
---
Accelerated attention to issues when you need it.
---
Live support sessions are available for urgent issues. We resolve issues quickly when they matter most.
---
Annual 24/7 Infor support — for your most critical business events.
Services
A portfolio of services designed to provide your organization with ongoing capabilities for sustained success. Free up your team to focus on your business priorities by leveraging our global team and certified skills.
---
Functional and technical expertise and support for the way your business uses your Infor applications.
---
Cloud release update assessment and recommendations specific to your business's Infor solution.
---
Automated regression testing to identify impacts and validate your solution during change events.
---
Support for what makes your Infor solution unique and development resources to help meet future requirements.
---
Application-level administration, maintenance, and pre- and post-cloud update and refresh activities.
---
24/7 monitoring and response for your most critical interfaces and application jobs.